Flyers
Craig Dunn wins Chase the Ace.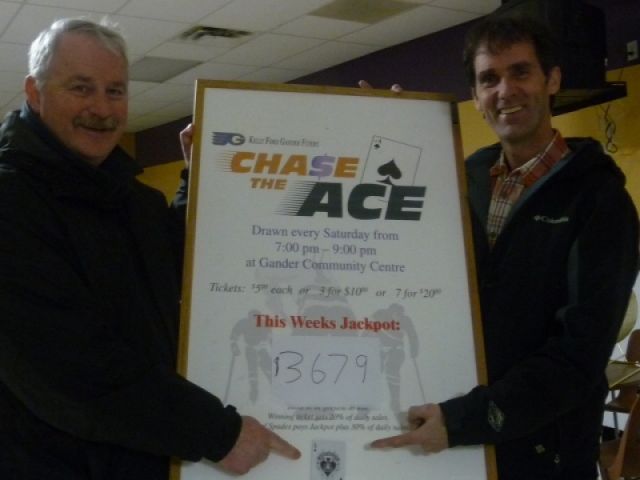 Chase the Ace went last night, Craig Dunn won $3679.
Many thanks to all the people who came out and supported this event for the Kelly Ford Gander Flyers.
[2016-02-21 08:39:00]
---
Flyers
Kelly Ford Gander Flyers - Ticket Sales Game 6
If Game 6 is required for the playoffs between the Kelly Ford Gander Flyers and the Grand Falls-Windsor Cataracts on Saturday, February 20th at 7:30 pm, the tickets will go on sale that Saturday morning. Please note the following times:
Holding Seat Sales from 9 am - 12 noon.
General Public Sales from 2 pm til Game Time.
For further information, please call 651-5931/27.
[Full Story]
[2016-02-17 17:46:46]
---
Flyers
Flyers tickets for Friday Night in GFW
This weekend you Kelly Ford Gander Flyers hunt for the Herder continue as they play game 5 vs. the Cataracts in Grand Falls - Windsor.
Flyers Nation we need a strong and vocal contingent in GFW to show support for the Purple and Gold!
Your Flyers Executive has managed to secure 70 tickets for Friday night's game for their Fans. The cost is $15 each and will be on sale at the GCC from 7-9pm on Tuesday Feb 16th on a first come first serve basis and cash sales only.
[Full Story]
[2016-02-15 12:02:08]
---
Flyers
Flyers win 1st Playoff Game down 3-1 in Series.
SATURDAY
The Kelly Ford Gander Flyers won their 1st Playoff game since they reentered Senior Hockey in 2012-2013 with a 4-3 overtime win over the Grand Falls Windsor Cataracts.
Brett Shute was the overtime hero when he converted a pass from Andrew Ryan at the 2:28 mark of the 1st overtime period.
The Flyers jumped out to an early 1-0 lead when Andrew Ryan scored from Ryan Matheson and Mitch Oake at the 8:35 mark of the 1st Period. The Cataracts quickly responded just over a minute later when Steven Yetman scored from Rodi Short.
[Full Story]
[2016-02-15 09:43:43]
---